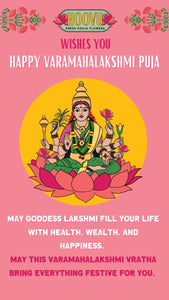 Varalakshmi Vratam/ Vara Mahalakshmi Vrata is a festival to propitiate the Goddess Lakshmi. Varalakshmi is one who grants boons. It is an important pooja performed by many women in the states of Karnataka, Andhra Pradesh, Telangana, Tamil Nadu and northern Sri Lanka.

Happy Varamahalakshmi Puja 🌸 
Hoovu's new digital screensavers, curated exclusively for flower lovers!
Our team will send in the digital copy through email or WhatsApp.