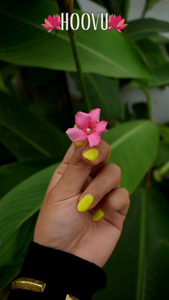 The scented flowers bloom in clusters at the end of each branch. The flowers are white, red, yellow and pink. They have a 5-lobed fringed corolla around the central corolla tube. These are double layered petal flowers. The flowers are offered to God either separately or in the form of a garland.
Hoovu's new digital screensavers, curated exclusively for flower lovers!
Our team will send in the digital copy through email or WhatsApp.