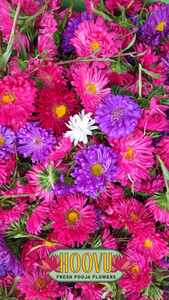 The September birth flower. This fall-blooming herb with daisy-like flowers stands for Wisdom, Faith, and Valor. Named after the Greek word for "Star" due to its blooms resembling a star, Asters symbolize love, wisdom, faith, and color. The Aster flower blooms in pink, red, white, lilac and mauve. This flower became a symbol of love when in Greek mythology it was placed on the altars for the gods. So now, when you send a bouquet featuring this vibrant bloom, the message of "Take Care Of Yourself".
Hoovu's new digital screensavers, curated exclusively for flower lovers!
Our team will send in the digital copy through email or WhatsApp.